How to clean wheelie bins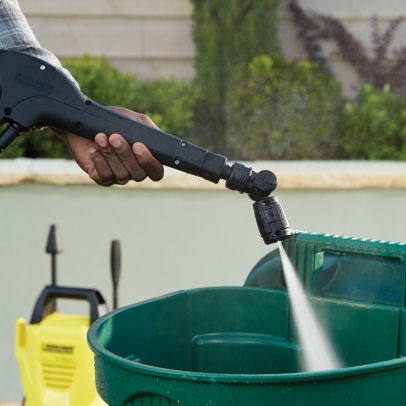 Quick and easy way to clean your wheelie bin
Cleaning out the wheelie bin has to be one of the worst jobs! However, using your Kärcher pressure washer you can get the job done in no time with brilliant results. Follow the simple guide below for the best results.
Step 1.
Rinse your wheelie bin using the vario spray lance to remove large pieces of dirt.
Step 2.
Spray your bin with detergent, using either universal detergent or plastic detergent.
Useful Tip: To apply detergent using your pressure washer, ensure the cap of the detergent is removed and plugged into your machine. Set your vario lance to the lowest pressure setting to ensure the detergent will come through.
Step 3.
Leave the detergent to get to work for a couple of minutes. This ensures the active dirt remover in detergents have time to activate.
Step 4. 
Rinse the bin using your vario lance removing all the detergent. To get the best results rinse from the top down, with the wheelie bin on its side to ensure water doesn't get trapped in the bin.
If there is still stubborn dirt remaining, use a wash brush to help the detergent agitate and remove the dirt. 
---